LA CONTACT JAM ORGANIZERS
&
THE LA Improv Dance Festival
PRESENT
Weekend CONTACT Workshop Series
LA Improv Dance Festival - Guest Workshop Series

April 21 & 22, 2018 Alicia Grayson Intensive Workshop in Contact Improvisation
11:00am-5:30pm @ Diavolo (with a potluck meal break)
616 Moulton Ave., Los Angeles, CA 90031
Click HERE for more info and registration
We offer a sliding scale for this program, so please pay what is appropriate for you to keep amazing teachers like this coming back to Los Angeles
Intensive Weekend Workshop Description:
Systems, Skills and States in Contact Improvisation
Dancing is most satisfying when there is congruence between our inner world (psyche, energy, state) and its changing nature and the outer expression of that through dancing. As humans we have the capacity to experience a vast range of states. In this workshop we will explore different body systems and how they support different states and skills and effect the experience we have of ourselves, our partners and our dancing.
Systems we will investigate include: skeletal, respiratory, fluids, skin and heart/circulatory. We all have favorite systems from which we live in and dance from. Working with different systems we will discover more gateways to listening and possibilities for connection/expression with ourselves and our partners in contact improvisation.
In our exploration of systems and states we will embody the physical principles of CI to create more clarity, efficiency and ease in how our bodies move together in three-dimensional space. Specifically, we will deepen our awareness of subtlety as we explore CI principles such as the point of contact, assessing and modulating tone, organizing our bodies efficiently, giving and receiving weight with ease and moving consistently off balance so we harness the power of momentum. We will support our contact improvisation practice by spending time zooming in to the inner world through the practice of authentic movement and zooming out to include group awareness and scores.
This workshop will open up more choices in ourselves, our movement and our dancing with our partners. Each component will build upon the next and will deepen our experience of our wholeness and ability to express our full range of humanness in our dancing.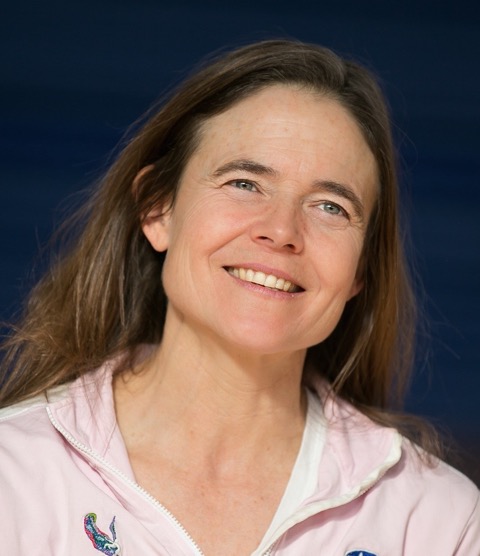 Alicia Grayson has been passionately involved with dancing, teaching and performing Contact Improvisation for the past 30 years. She has taught CI as an adjunct faculty at George Washington University, University of Denver, Naropa University and Shenandoah University. She teaches CI, yoga and pilates classes in Boulder, CO and regularly travels nationally and internationally to teach. Her long time practices of authentic movement, yoga and pilates and her love of nature are important influences on her dancing and teaching. She is a certified Hakomi therapist, certified perinatal somatic attachment therapist and certified Feminine Power transformational coach and facilitator. She delights in exploring and discovering new depths to contact improvisation and related disciplines and is particularly interested in the intersection of physics and expression and the mind/body relationship. She is dedicated to supporting her fellow humans to be the most amazing embodied beings that we are! For more info contact: aliciaggrayson@gmail.com
aliciagrayson.com (not live yet)